The Volunteer Application is now OPEN!
We're pleased to share that our camp dates for 2017 are July 17 – 23 and August 7 – 13! Both sessions will be held at Suder Montessori (2022 W. Washington Blvd.). We depend on volunteers to make our camps possible–we really and truly couldn't do this without you all.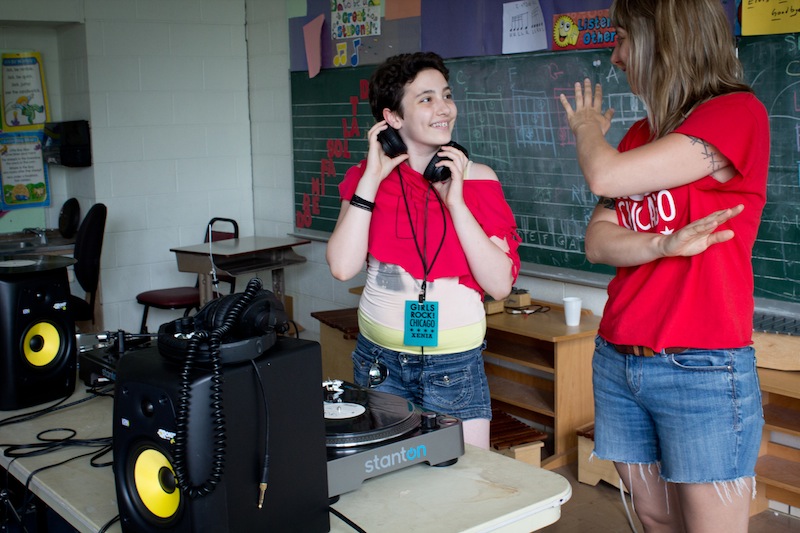 So how you do become a volunteer?
Because we are working with Chicago Public Schools this year, Girls Rock! Chicago volunteers are now required to complete a few extra steps to volunteer at camp. These include:
1. The CPS volunteer application (please select Girls Rock as your school/organization)
2. A fingerprint background check
3. A TB test
You can read all of the details for the process here. It's very important that you complete all of these steps at least one month before the first day you'll volunteer.
We know this is complicated, and we want to do everything we can to make it easier for our volunteers. We're bringing Accurate Biometrics to Suder Montessori on Monday, April 24th to run fingerprint-based background checks. It's super fast and completely free. Please join us if you can!
RSVP and read the event details here.
Once you complete the CPS volunteer application, fingerprint background check, and TB test, then complete:
1. Girls Rock! Chicago volunteer application
2. New volunteer interview
3. Volunteer packet
We are happy to answer any questions you might have, please reach out if you need anything at all. You can reach us at volunteer@girlsrockchicago.org or (773) 289-2670!