Apply to Volunteer Today!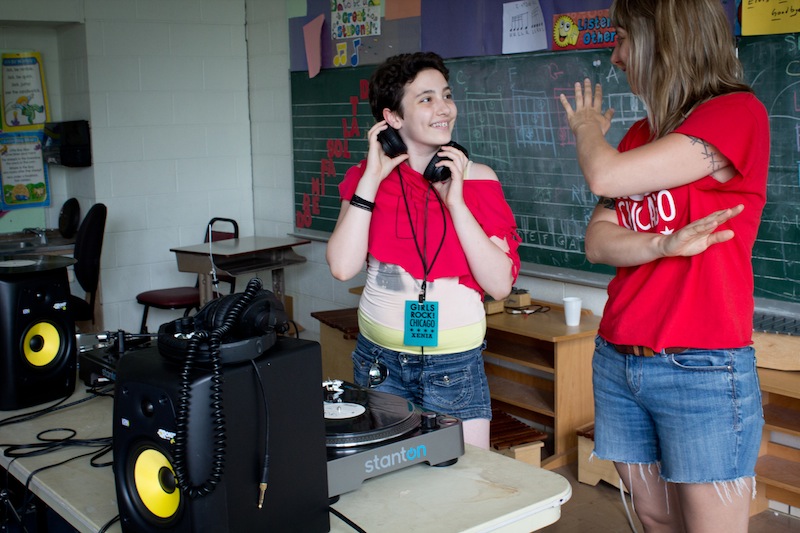 We're pleased to share that our camp dates for 2017 are July 17 – 23 and August 7 – 13! Both sessions will be held at Suder Montessori (2022 W. Washington Blvd.). We depend on volunteers to make our camps possible–we really and truly couldn't do this without you all.
So how you do become a volunteer?
The first step to becoming a volunteer with Girls Rock! Chicago is to complete a volunteer application. You can access that here. You'll receive a confirmation email after completing your application that will include the next steps:
1. Completing a fingerprint background check
2. Completing the Volunteer Packet or the Volunteer Packet for Minors
3. Attending a volunteer interview
4. Attending a volunteer orientation
Volunteer Orientation will be held at Suder Montesorri (2022 W. Washington Blvd.) on Saturday, July 8th from 10 AM – 2 PM and Thursday, July 13th from 5:30 PM – 8:30 PM.
A new requirement this year is the fingerprint background check for any volunteer who will be spending five or more hours per week working with youth. To get fingerprinted, complete this form found in the volunteer packet, and take it (along with a government issued photo ID) to any Accurate Biometrics location. Accurate Biometrics is located at:
Chicago – Loop
134 N. La Salle St.
Suite 2060
Chicago, IL 60602
Chicago – South
5401 S Wentworth Avenue
(Across from Family Dollar)
Chicago, IL 60609
Chicago – North
4843 N Milwaukee Avenue
Chicago, IL 60630
They also have several suburban locations, as well as a few others in Illinois, Nebraska, New York, and California. You can see the full list on their website here.
We are happy to answer any questions you might have, please reach out if you need anything at all. You can reach us at volunteer@girlsrockchicago.org or (773) 289-2670!