Teen Volunteers at Girls Rock! Chicago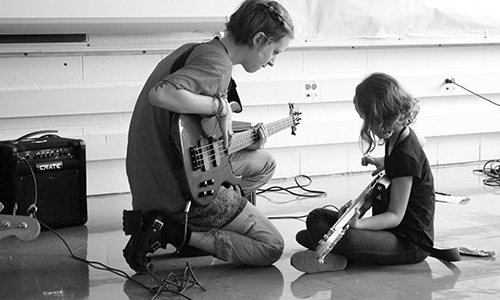 Girls Rock! Chicago is pleased to announce a new opportunity for teen campers ages 14 – 16: Our Teen Volunteer Program! Current and former campers between the ages of 14 and 16 can now apply to volunteer during one camp week. We will select up to three volunteers each session.
Teen volunteers will develop leadership skills by modeling supportive and empowering behavior, building a positive camp climate, and supporting technical needs at camp. Teen volunteers work closely with the Gear Coordinator.
Through this program, teen volunteers will gain experience in:
– Building a positive camp environment and culture
– Modeling supportive and encouraging behavior
– Gear/supply coordination for a group of over 70 campers
– Professional interpersonal communication
– Working as part of a team to complete a collective goal
– Musical and technical vocabulary
– Safe and appropriate use of musical equipment
Staff and volunteer capacity permitting, teen volunteers may choose as a group to collaboratively write a song during band practice each weekday and perform it at the showcase at the end of their session. *Please note that teen volunteers will not be able to receive any instrument instruction during their volunteer tenure.
TEEN VOLUNTEER RESPONSIBILITIES
– Assist the Gear Coordinator as directed
– Move and set up drum kits after instrument instruction
– Move and set up drum kits after band practice
– Keep the gear room tidy and organized
– Check on instructors and coaches to see if they have any gear needs
– Bring requested gear to practice and instruction rooms
– Act as role models for younger camps
– Contribute to the positive and supportive camp environment
– Assist with other tasks as assigned
Teen volunteers will not:
– Lead instrument instruction
– Lead band practice
– Supervise campers
– Be left without an adult chaperone
TEEN VOLUNTEER DAILY SCHEDULE
Teen Volunteers must commit to one entire camp week, including volunteer orientation, load in, the full camp week, and either the showcase or recording session.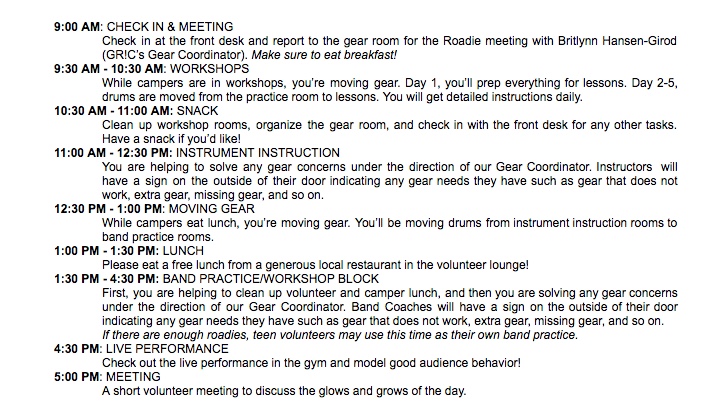 APPLICATION INSTRUCTIONS
– Complete the Girls Rock! Chicago Volunteer Application (You can select the role "Junior Counselor" and then add in the comments you're applying as a Teen Volunteer!)
– Submit a letter of reference outlining your strengths and explaining why you'd be a good fit for the program. References can come from any non-family adult or peer, such as a mentor, teacher, counselor, or employer.
Applications are due Friday, June 30th. Applications will be reviewed by the Girls Rock! Chicago staff, and acceptance notifications will be sent on Wednesday, July 5th.
Please note that the Teen Volunteer Program is not first come, first served. Staff will make the final selection based on the following criteria:
– Ability to collaborate and work on a team
– Enthusiasm for the proposed work
– Articulate understanding of the Girls Rock! Chicago mission
– Demonstrated maturity and responsibility
Accepted volunteers must then attend a volunteer information session with staff, review the volunteer manual, and attend a mandatory volunteer orientation.
Questions? Contact volunteer@girlsrockchicago.org to learn more!